At Presnick Chiropractic & Holistic Health Center, we take great pride in providing the finest chiropractic care to each and every patient. We have included information below about the different chiropractic services offered in our Pleasant Hill chiropractic office, but please call us at (925) 609-9355 if you have any questions!
---
Services We Provide:
Chiropractic Care
Massage Therapy
Myofascial Release
Physical Examinations
Sports Physicals
Preventative Health Care
Gentle Spinal Manipulation
Spinal Decompression Therapy
Nutrition Therapies
Expertise in treating Difficult/Chronic Conditions
Pediatric and Senior Care
Physical Therapy
Spinal Conditions
Treatment for Shoulder, knee, hip, arm, leg and foot joint pain
Custom Foot Orthotics - Click this link for educational Foot Leveler videos: FOOT LEVELERS
Rehabilitation
Health Maintenance
Corporate Wellness Programs
In-home kitchen content assessment and re-vamp
RRT (Rapid Release Technology)
Lab orders through local labs as well as Spectracell and Genova Labs
---


Chiropractic Care
We provide advanced spinal correction and chiropractic adjustments utilizing "state of the art" chiropractic techniques. Never in the history of chiropractic care have chiropractors been able to provide the level of help and expertise that is available today. Many of the newest chiropractic techniques are actually safer, more comfortable and more effective than ever before. As chiropractors who care about utilizing the most advanced chiropractic techniques, Drs. Bruce and Laura Presnick have years of training, expertise and experience in helping patients get pain relief for back pain, neck pain, headaches, and other related conditions originating from the spine. Chiropractic care under a trained professional can even be used to prevent injuries and help you achieve total health or wellness.
---

Corrective Exercises
At Presnick Chiropractic & Holistic Health Center, we teach our patients how to perform special "blueprint" exercises which can help strengthen and correct the irregularities in their body which may be causing pain. Many of these corrective exercises can actually be performed in the comfort of your own home to help improve the effectiveness of your chiropractic care and spinal correction plan. In addition to skeletal misalignment, you may be experiencing pain that is caused by muscles and connective tissues which are out of their proper place. Other types of pain such as back pain, neck pain, and headaches are caused by muscles and tissues that are being used improperly, causing injuries over time. In each case, targeted corrective exercises and stretches from our experienced chiropractor will help you feel good while also helping your body achieve balance and health.
---

Lifestyle Advice
Many of our patients come to see our chiropractor to address a specific pain symptom such as back pain, neck pain or headaches. While our chiropractor will address each patient's specific condition with chiropractic care, we often find it helpful to "coach" our patients towards achieving a healthier lifestyle. For example, there may be certain activities that you should avoid or do differently to prevent yourself from unintentionally aggravating your particular health challenges. The goal of including lifestyle advice with a chiropractic care plan is to help each and every patient achieve the fulfilling and happy lifestyle they deserve, one that is full of the activities that are enjoyed most. We recognize that every single one of our patients is a whole person, and we use our expertise to help them reach total health and wellness.
We also have over 40 years experience working with pregnant and nursing mothers!
---

Nutritional Counseling
We provide a wide range of nutrition services. For example:
Vitamin "check ups"
Bring in your supplements for evaluation, find out if you are getting the right quantity & quality of nutrients for your body.
Help managing many health problems, from blood sugar to cholesterol to weight loss/gain to digestive disorders.
To improve athletic performance.
To improve and maintain good health.
To discover how best to help you, Dr. Laura may ask you to have some lab work done, or to obtain copies of recent lab work. A 7-day food diary and other questionnaires are usually filled out before seeing the doctor. On your first visit, the doctor will perform a Nutritional Physical Exam, including a bio-impedance analysis. This test provides essential information on body fat, lean body mass, essential fatty acid status & other data.
---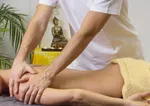 Massage Therapy
Dr. Bruce has extensive post-graduate training in deep soft tissue therapy. Our practice also employs in-house certified massage therapists who work closely with Dr. Presnick for your therapeutic needs. Come see our newly remodeled Massage Therapy Suite! We have evening and weekend massage therapy appointments available.
---

Custom Foot Levelers Orthotics and Shoes
Here at Presnick Chiropractic our patients are experiencing amazing results with their orthotics! It all starts with a complimentary computerized 3-D laser foot scan. Within 5 minutes, this newest technology scans the 3 arches of your feet and your posture.

It's not just customized orthotics. We have customized shoes, sandals and flip-flops!
What are the benefits of custom orthotics and shoes?
* Reduced pain and fatigue in back, neck, knees and feet
* Helps eliminate Plantar Fasciitis
* Improves posture
* Reduces pronation of the feet
* Supports collapsed arches
* Improves athletic performance by supporting the foot
Click this link for educational Foot Leveler videos on Vimeo: FOOT LEVELERS
---

Spinal & Postural Screenings
There is a saying that an ounce of prevention is worth a pound of cure. Your spinal health is no exception. Posture and spinal screenings by trained and experienced chiropractors such as Drs. Bruce and Laura Presnick can help reveal important health information, unlocking the door to improved health and well-being. In order to help the community, we provide screenings at community events, health fairs and places of employment. Contact us today at (925) 609-9355 to arrange a screening at your event or workplace.